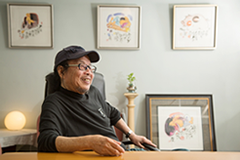 Ah Chung
Ah Chung's real name is Yee-King Yim.  He calls himself "Ah Chung" (insect) because of his admiration for worms.  He admires them not only because they have great strength in survival, but also, be happy in harsh environments. The essence of Ah Chung's style lies not only in his lively and humorous depiction of his subjects, also particularly, in the way he enriched his paintings by adding short prose, which expresses his view upon human nature and life values.
The uniqueness of his works have won him many admirers and made him one of the most popular artists in Hong Kong.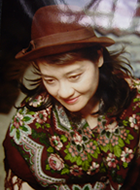 Chau Mi-Mi
Chau Mimi is a famous figure across the regional creative and cultural sector.
She has so far been published nearly 100 books and won multiple awards and nominations during her career.  Her books have been sold very well in the region and frequently being selected into the text book for teaching in primary and secondary school.
Mimi feels very passionately about children's literature, as well as literature in general. She is the Vice President of the Hong Kong Writers, Children's Literature and Creative education Association, Committee Member of the End Child Sexual Abuse Foundation.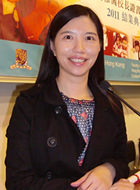 Dilys Leung
Dilys received her Master Degree in Parent Education from HKCU and has over 20 years of teaching experience in young child education. She founded "Hope for Children" Parent Education Service Platform in 2013 and developed the content that has changed the lives of parents through in-person seminars, speeches and workshops.
Auntie Koala (Helen Li)
Helen is passionate about storytelling. Since 2000 she has been a full-time volunteer providing counselling and training services for several NGOs, primary and secondary schools, special schools and a number of parenting book clubs.  She has developed a range of projects such as "Story Papa & Mama training project", "Family Reading Club", "Parenting communications skills", "Reading programme for children and parents" and training of new volunteers. She has also designed and provided guidance for reading and learning programmes for groups with special needs.
Currently, she is the Chairlady and trainer of the Storytelling Volunteer as well as the Family Life Education Unit in the Haven of Hope Christian Service. She is also the Project Director and Treasurer of the Children's Literature and Creative Education Association and serves as Committee Member of the Story Angels which is a volunteer group.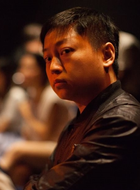 Jeffrey Chan
Jeffrey is currently a theatre director and a drama educator. He is passionate about the role of Drama and Education in creative learning and is particularly interested in the potential of theatre to motivate behaviour change for children and young people. Currently, he is studying Master of Fine Arts programs in the Drama School of HKAPA, majoring in directing.
He is also a qualified English teacher, holding a Master's Degree in Education from HKU and a Bachelor's Degree (Honours) from HKIEd. He has extensive and varied teaching experience, as well as organizing various types of English activities and performances.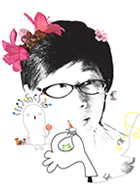 Maxim Tang
Maxim Tang's original name is Sau-Hung. She is a graphic designer and illustrator. Maxim's illustrations have so far been published in over 100 children's books with different themes. She has received numerous awards and honors during her career. Currently, she is actively promoted the local creative culture and she is the Creative Director of the Children's Literature and Creative education Association and the Creative Course director of one of the disability arts organization.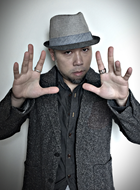 Man-Tsun
Man-Tsun, illustrator & design manager based in Hong Kong. Vector art and Pen & Ink are his specialization. As a manga and video game freak, his works carry a very strong manga & anime DNA and emphasize on detail and stroke fluidity. His creative enthusiasm can be seen in different creative fields such as advertising, editorial, broadcasting, film and even theme park design. Man-Tsun won Laminate Most Wanted awards, received 3 Gold and 1 Silver awards from Bromax & BDA and a few Awards of excellence from Great China Illustration Awards.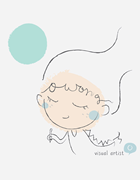 O Wong
O Wong, a columnist and illustrator. While she finds great joy in drawing, thinking, writing, laughing and sharing, what really makes her happy is making OTHER people's life a little happier. Her daily comic column "Miss and Mr." in "Sky Post" (7/2012-7/2015) represents her work the best. In 2014, she published her first book "When Miss Met Mr." and working hard now on her next publication.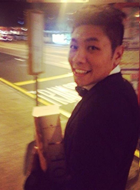 Travis Ying
Travis has obtained a bachelor's degree (Honours) in Education (Visual Arts) at the Hong Kong Institute of Education and a Master of Fine Arts from the HKAPA, majoring in scenic design.
He is a qualified teacher in visual arts and drama with 8 solid years of experiences. He is also a devoted illustrator, a theatre stage designer, a drama performer and the creator and cartoonist behind a dream, a dialogue and a cloud named "the Chatties" that will be expanded into books and merchandises in the near future.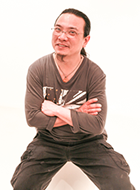 Walter Chan
Before setting up his own studio for painting party and pottery making workshop, Walter has been working in the commercial arts industry for many years. Walter received his design education from the First Institute of Arts & Design. His works has won the Philippe Charriol Foundation Art Competition in the sculpture category and painting category respectively.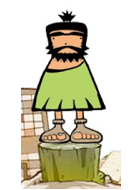 Wildman
His real name is Tsui Chi Hung, a professional children book's illustration artist. He brings energy and whimsy to her illustrations and strives to create a more colorful world for children to live in. Wildman specializes in drawing people, animals and natural things, and illustrates for many different genres including advertising, books, magazines and greeting cards.